Our first Whippet...
~ Seville's Thundar ~
(Ch. Seville's Giration ex Seville's Midnight Lace)
b. 10-24-88 d. 7-12-2003
Bred by: Phyllis Snell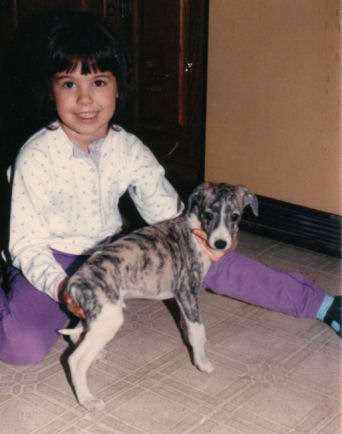 Early Training
In December of 1988 we were invited to pick out a puppy
for Amy for a Junior Show dog from a litter bred by Phyllis Snell.
Amy picked out Thunder and little did I know that this would change
the rest of my life. After having Afghan Hounds since 1971, the whippet
was a lovely addition and after having Thunder for a short time
I wanted a whippet for myself to show. After Thunder, I never got
another Afghan Hound.
Thunder is pictured above and below at 6 weeks.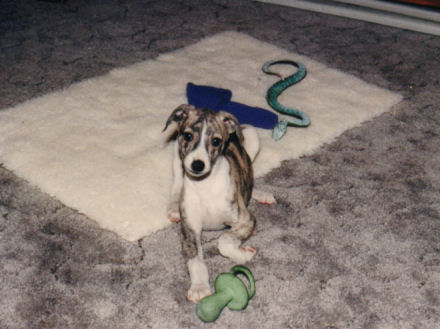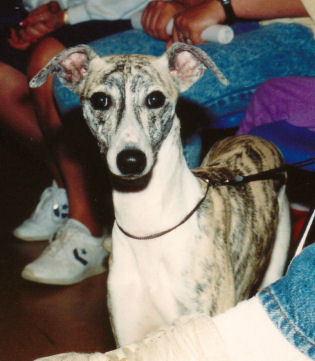 Thunder at a year of age
Thunder was a VERY smart dog. He had a funny bark, it actually sounded
as if he were de-barked but he wasn't. Everyone was his friend and
always greeted you with an "oaf oaf oaf" !! He wasn't a big dog, at the
shoulder he was a little under 21 inches.

His greatest show win was Reserve to a 5 point major handled by Amy.
He was in first till that last time around and then switched to second.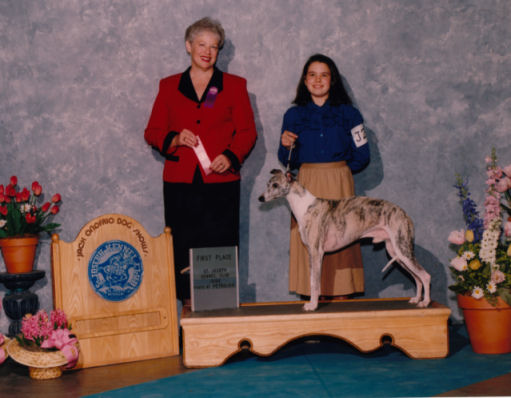 Thunder pictured with Amy in 1994 winning 1st in Jr Show.
Judge Fran Colonna Amy was a wonderful Jr Handler but
decided it wasn't her "thing".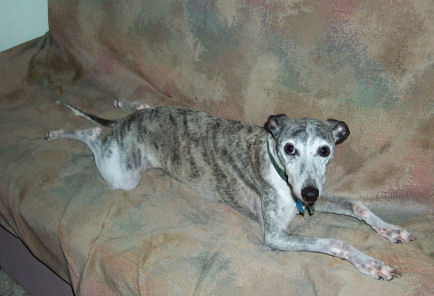 Thunder at age 11 or 12. Thunder was always a "frog dog"
I have to thank Phyllis for introducing the whippet into
our household. I had wanted a whippet when we got
Thunder, but Thunder was so special and made such an
impact. We Miss You Thunder !!!