The Legend Continues.......................

Hasue Gibson Girl, Gibson's BABY at 10 weeks(click image)
"GIBSON"
Ch Saxon Shore Braveheart
(Ch Watch Me Ari Independence X Ch Saxon Shore Golden Nugget)
Breeder: Daniel Lockhart & Karlene Kahlstrom
cerf # WP-1230/98-24
Click HERE to view Gibson's Pedigree
Gibson's Breed wins:
1. Dr Theo Kjellstrom
*Grp 3(same)
2. Keke Kahn
3. Dr Bernard Ziessow
4. Stephen Hubbel
*Grp 4 Patricia Laurens
5. Monica Canestrini
6. Helen Miller Fisher
*Grp 4 Lee Reasin
7. Lou Harris
8. Monica Canestrini
9. Sharon Krogh
10. Stan Halley
11. Barbara Dempsey Alderman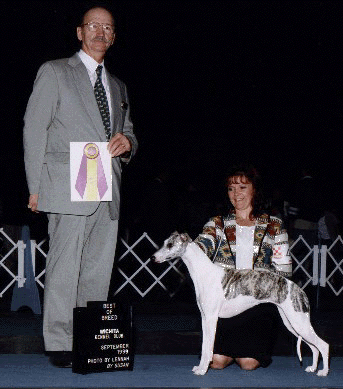 Ch Saxon Shore Braveheart "Gibson" and daughter Ch Hasue Gibson Girl "Hannah"


Rodeo Louis Vuitton
(CH Saxon Shore Braveheart ex Ch Robo's Ripshin Lotty Da, FCH)



For info on our planned breeding.....

Gibson's first babies are on the ground!!!! Visit them at
http://www.angelfire.com/mi/dianapuppys/
---
"Shelby"
CH Avalon Steel Magnolia
(CH Nasusa Taymarc Dalcreagan West x Saxon Shore Firedance)
cerf #WP-1399/98-104
For info on our planned breeding.....

THERE HERE!!!!!!!!!!!!!!

---

Our Black & White baby!!
"SHAMU"

NEW FIELD CHAMPION
HH Heartland Shock Waves @ 8 weeks and 13 months
(HH In The Spotlight, SC (pointed) X Multi BIF... HH Sushi Matsuri of Mwari, SC, FCH(13 pts, 1 major)
Bred by: Robin Barry, Robt Studley, Jr, Meredith West
Click

to see Shamu Lure Coursing at the AWC Nationals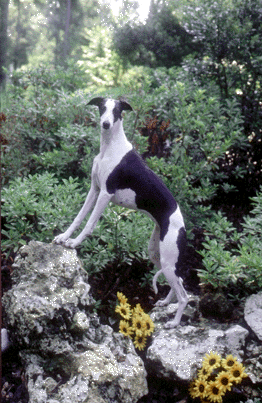 Group Winning..... HH Moonlight Becomes Her
"ROSEBUD"
(HH Priory Harbor Lights, FCH ex HH Glittering Moon,FCH)


Click for more of Rosebud

---
Whippet Links
To see Hound Hollow ~ Robin Barry ~ click ---->[HERE]
Click ----->Mega whippet links
Click ----> Canine Health & Medical
click ----->Dog Show Link
To see More click here--------> Heartland Whippets
Want to see my Afghan Hound Page?? Ameri-Kahn Afghan
Click HERE to visit Miyabi whippets
more whippets click here--->More Whippets
Click to see -->Blue Nile Salukis Home Page

---
HeartLand Whippets
Vickie Smith
Send Mail to: vjswhippet@aol.com
You are visitor number
Since October, 1997
Sign My Guestbook
View My Guestbook


Last updated Sept 3, 2000
Vickie Smith, Webmaster